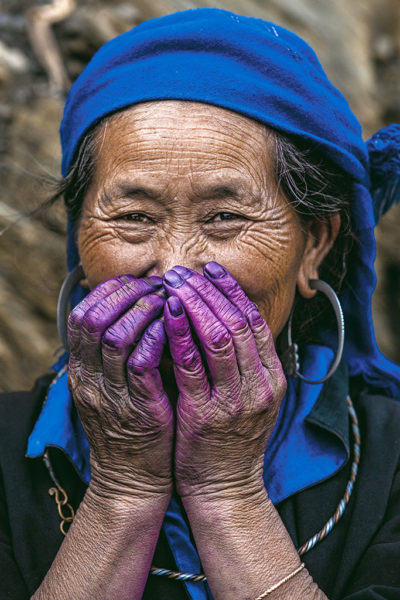 Vietnam, Mu Cang Chai
2013
The Story
Ly Thi Bau from the Hmong ethnic group shows off her beautiful violet hands stained from the dye she used to create handmade textiles. This photograph is part of both the "Hidden Smile" and "Indigo" series.
Fine Art Prints
This photograph is available for purchase as a Reproduction (40x60cm/15.7x23.6'') or as a numbered Collector's Original (up to 100x150cm/39.3x59'').
Reproductions
Size
60x40cm | 23.6x15.7''
Free shipping worldwide within 2 weeks
Print
Printed on high - quality matte paper.
On Dibond
Photo will be printed using a 7-color laser exposure method and mounted under 2 mm of acrylic glass.
Delivered with sturdy aluminium Dibond backing
For larger sizes, please view our Collector's Original editions.
Print 180€
1 copies remaining
On Dibond 329€
2 copies remaining
Collector's Original
Limited Edition of 15
This gallery-quality photograph is processed on Fuji Crystal Pearl paper in our laboratory in Germany. It is delivered with a lifetime guarantee and a Certificate of Authenticity. Limited Editions increase in value each time a copy is sold, making them an excellent fine art investment.
Certificate of authenticity
Damage replacement
Fuji Metallic Paper
Fuji Crystal Pearl metallic paper uses silver halide emulsion technology to give your photograph an unbelievable 3D effect. Image durability guaranteed more than 75 years.
Exclusive Collector's Mobile Application
Follow the value of your artwork in real-time.
Instant notifications when your photograph is purchased and increases in value
Be the first to discover the latest Artworks
Direct messaging with the artist and his team
Large 6.000€
90x60cm | 35.4x23.6'' 6 of 15 copies remaining
Collector 8.500€
150x100cm | 59x39.3'' 12 of 15 copies remaining
Free shipping worldwide!
Understand pricing