A Guide To Investing In Fine Art Photography
The world of Fine Art Photography has never been more accessible than it is right now. In the past, you had to be a seasoned collector or gallery goer to see a famous photographer's work. Now, we can follow our favorite artists on social media and even peek behind the scenes at their processes.

Photography is adaptable to our modern world in part because it is so readily shareable. Viewers can also get a good idea of the quality of the work through online images.

However, before you begin, it's important to understand the difference between Instagram-style photos and the art of a master photographer. This distinction is essential in knowing whether or not the piece will have good investment value.

Every art form has its rules for what makes one piece more valuable than another and photography is no different. Follow along below for advice about how to get into the right  frame of mind to invest in fine art photography.  

This article is part of our series about Fine Art Photography investment. To find out why you should start your collection today read our article "10 Reasons Why You Should Invest In Fine Art Photography"


Is Fine Art Photography Really a Good Investment?
Fine art photography is a relative newcomer to the centuries-old world of art collecting. Now, it's finally taken its place as a respected investment along with older art forms such as painting and sculpture. From Peter Lik's "Phantom", which is rumored to have sold privately for $6.5 million dollars to a multi-million-dollar auction for Andreas Gursky's "Rhien II", the importance of investing in fine art photography has been confirmed.

Recent articles in the Robb Report, The Guardian, and Sotheby's point to a growing trend towards  contemporary photography acquisition. In the Robb Report article "Photography Proves Itself as a Medium for Investment", alternative investment specialist Roman Kräussl revealed that:

"Benchmarked against other asset classes, photography remains a wise investment … Moreover, its relative affordability provides a wealth of opportunity for collectors looking to get in the game."

Yet, unless you have a gift for betting on winners, the process of purchasing an investment photograph can be confusing. Rather than leaving it to luck, follow a few rules of thumb to get the most out of your money.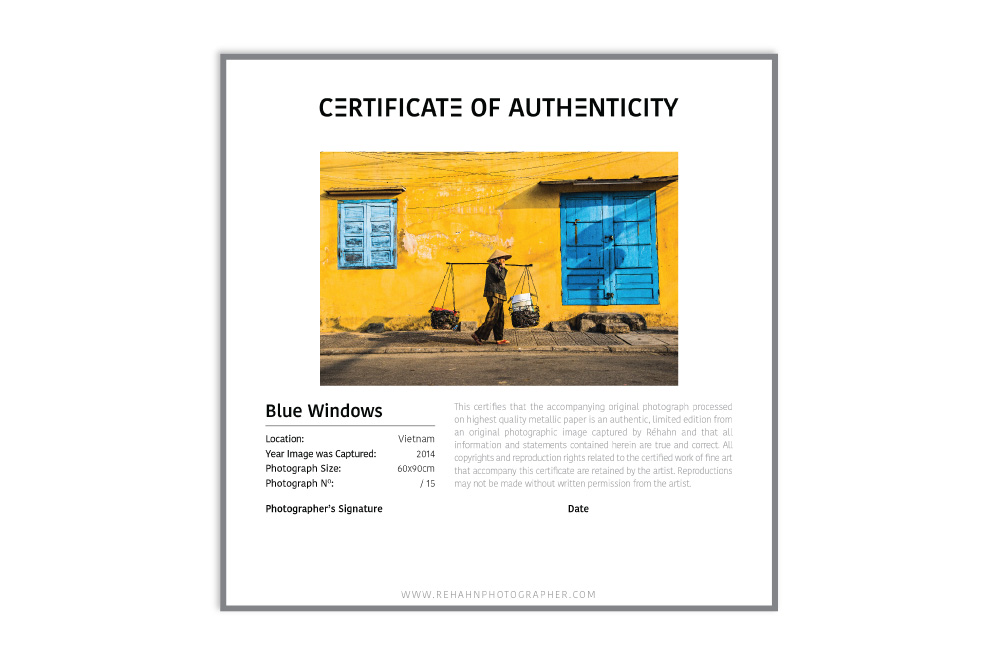 How to Determine the Value of the Photograph
A potential investor should note the following things when researching their artwork.
Is the artist established, unknown or up and coming?
How was the piece produced?
Is it signed?
Is it authentic?
Is it a limited edition?
We'll go into more detail for each category below.
Who is the Photographer?
Photography is everywhere we look. Images appear in magazines, advertisements, websites, books, and more. In many ways, the modern world has shifted from a word-focused society to one that prizes images above all else. This is evidenced by the popularity of photo-sharing social media sites.

So, what separates fine art photography from the wave of images we see every day? The answer lies with the artist.  

Photography as a collector's medium only truly began in the 1970s and 80s. Sure, the medium of photography began as early as 1826, but the main purposes of these photographs were for advertising, photojournalism, or family portraits.

Over the last several decades, photographers finally began to be seen as true artists alongside their fine art contemporaries. This shift began when photography became an art form that expressed the artist's vision (rather than sharing news or promoting a product). And collectors started to take notice.

Now, the field of photography is flooded with photographers at all levels and abilities. It is more important than ever to do your research to determine whether your photograph will retain its value.

First, check to see whether the photographer's work has been featured in international media, well-known galleries, or auction houses. It's also valuable to know whether their work has entered the secondary market (the reselling of a photograph for a higher price after a limited edition has sold-out.)

Your budget will help determine the photographer and the artwork you choose. It's important to note that prices can be driven up by the photographer's name as well as the popularity of the piece. For example, you might assume that any work by one of photography's big names such as Peter Lik, Andreas Gursky, Irving Penn, or Cindy Sherman would hit record prices. Yet, a well-publicized photograph by an up-and-coming artist may hit the same price point as one of these master's lesser-known works. Then it is just up to you to decide which piece speaks to you and fits your style.
Is the Photograph of High Quality?
Collectors should look into the quality (and care) with which the artwork was produced. Research the paper type and printing processes that have been used. A paper like Fuji Crystal Metallic Paper can change an image from flat to having an unbelievable 3D effect. The size can also change a photograph's impact and worth. Larger sizes typically command a higher price tag and a greater resale value.

Sometimes artists will sell the same image in different formats. This may include both inexpensive open-edition reproductions and exclusive limited editions.  This can be confusing for the potential buyer. If the customer likes a particular photograph isn't it better value to get the least expensive format possible? The answer to this question lies in the difference of quality.

One of the most popular reproduction prints of all time is the painting "The Kiss" by Gustav Klimt. This painting is undeniably beautiful. Unfortunately, it's over exposure in cafes and living rooms all over the world has somewhat dimmed its brilliance. Yet, anyone who's seen the real painting knows that it has layers of texture that can't be reproduced on a printer.

Most amateur photography collectors don't realize what a difference there can be in the way that a photograph is processed. Reproductions are typically printed using a high quality laser or jet printer.

Whereas, the exclusive nature of limited editions means an investment in the highest quality materials and a state of the art process. The process (not printing) and the paper create texture and brilliance that can change an image into a nuanced masterwork.

In addition, investment quality photographs will have an incredible lifespan and durability that a reproduction does not.  

According to Aperture, a Kodak Digitizing website, "The main type of photo ruination comes in the form of UV light exposure. The process of photos fading due to sunlight is called photo-degradation, which is a surprisingly apt and descriptive word. What basically happens is that sunlight shines on the plastic materials that make up the colors in pictures and excites them. When the molecules in the plastic get too excited from the light, they start to break down. That breakdown is bad news for prints, and the result is that the pictures fade."

A top quality photograph will be processed to slow photo degradation and will include a lifespan guarantee of 100+ years. Now that is true value for your money.

How Rare is the Photograph?
The rarity of an edition is a big consideration when purchasing. The number of photographs produced will drastically drive a price up or down. If an artist only makes 5 copies of a photograph, a collector can expect a higher price than an edition of 25. An open edition (unlimited prints) lowers the value significantly.

In this vein, a potential buyer should also look at the edition number of the piece they're interested in. As each copy is sold, the price of each subsequent photograph will increase as availability becomes scarcer. This is usually because most owners love their photograph, and are not willing to part with it. Those willing to sell to the secondary market set their price points much higher than their gallery purchase price.  

Limited Editions also come with a certificate of authenticity and an artist's signature. These are essential to the value of your artwork.

This is the point where a buyer should try to gauge how a piece will sell. If one can anticipate the popularity of a photograph from the beginning, they should buy the earliest edition possible.

Then they can watch the monetary value of their piece rise as subsequent copies sell. Choosing a photograph that garnered instant attention from international media and social networks can be a good starting point. It is also useful to see how quickly the first copy sold to try to determine its rising popularity.
Do You Love the Photograph?
In the end, no matter how good of an investment a photograph might be you still have to live with it. A few collectors might buy a fine art photograph simply because of its rarity and fame in the art world. To these buyers, the work is more of a luxury investment item than a true piece of art. However, the majority of buyers choose to buy the work because they love it.

Take your time to decide what photograph will work in your space. You can start with colors you love such as green, blue, or yellow, and then seek out works that will stimulate this color palette. Some artists also have AR (augmented reality) features on their apps or websites that will allow you to see the artwork in your actual room.

At this point you can contact the gallery to get more information about the photograph. Ask how many copies have already sold; if it has gotten a good response in the media or social networks; and perhaps, you can even learn the story behind the photograph.

Remember, the most important thing is to invest in a photograph that will bring you pleasure for years to come.To learn more head to our sister article "10 Reasons Why You Should Invest in Fine Art Photography"! 
Finding Tranquility in Art
Discover more of our photographs featuring the color green. 
Think about how each one makes you feel. Which shade matches your personality? Which image will refresh and rejuvenate your home?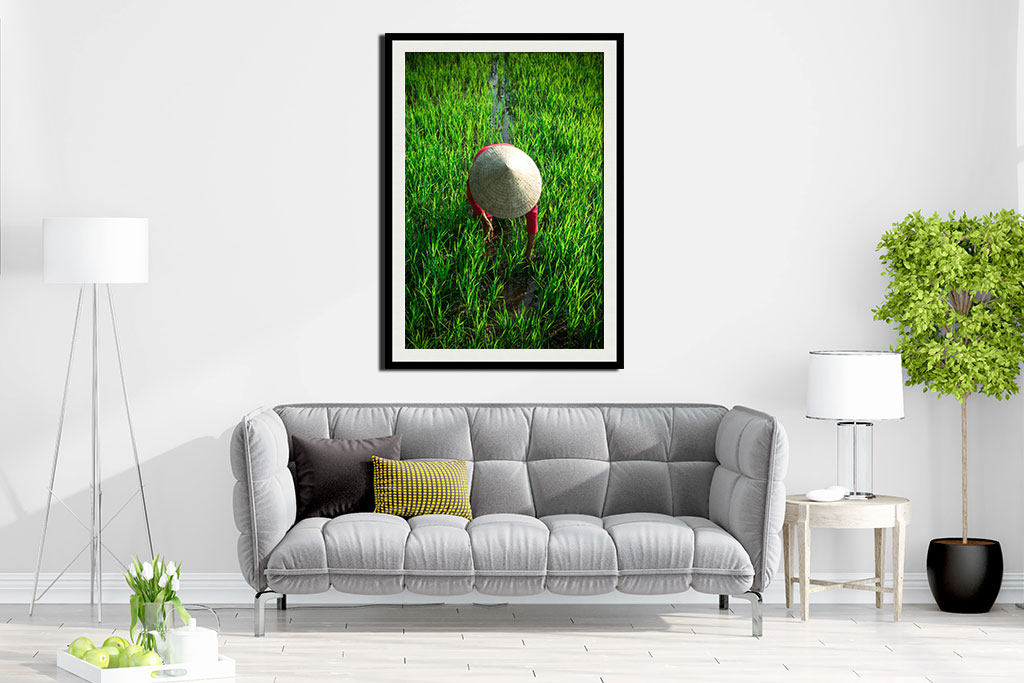 A woman in her traditional conical hat surveys her rice crops near Hoi An. The abundant shoots of green mean harvest season is near.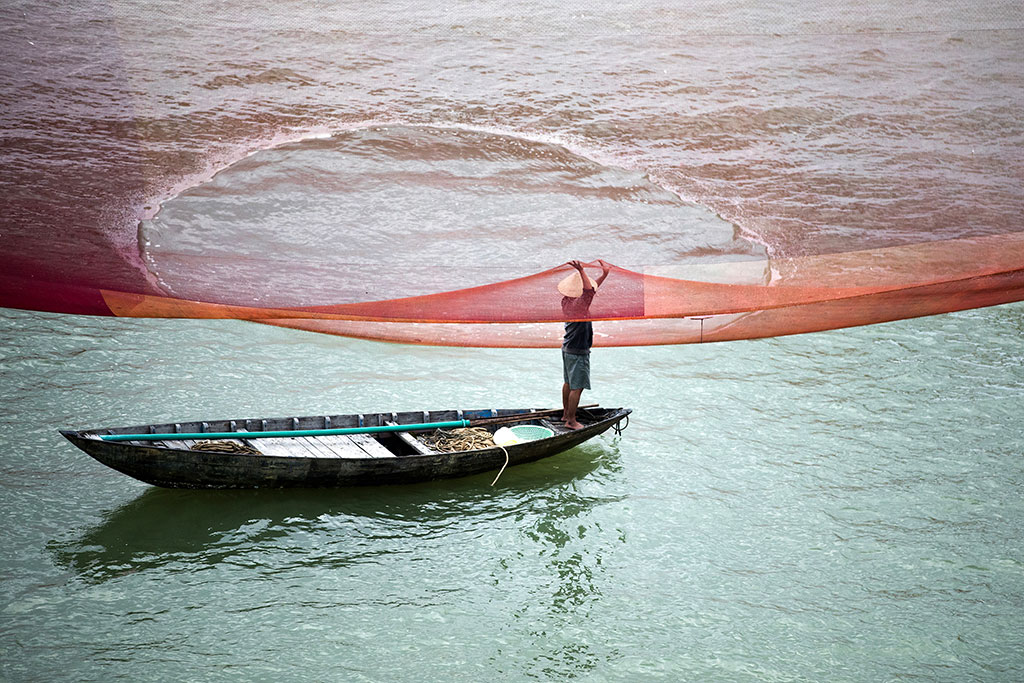 Like a painter brushing color across a canvas, this fisherman casts a ruby haze across the sky with his mesh net. Vietnam's beauty can be found in the most unexpected places.
Lotus season in Hoi An creates a splash of beauty with its painterly colors and the otherworldly size of the blossoms being harvested.