AN INSPIRED INTERIOR WITH YELLOW FINE ART
Read on for ideas about how to invigorate your interior decor with the color yellow. From Fine Art inspiration to personalized design tips, learn how to brighten your life with the color yellow.
Yellow is the color of renewal and hope, empowerment and elegance. It can be seen in a burst of sunshine or a flash of gold. It can represent a wheat field at harvest time or a piece of parchment paper that is yellow-tinged with age.
In Fine Art, artists have been obsessed with the color yellow since man learned how to paint. The Romantics and Impressionists, in particular, explored how to use yellow to bring light and vibrancy to their paintings.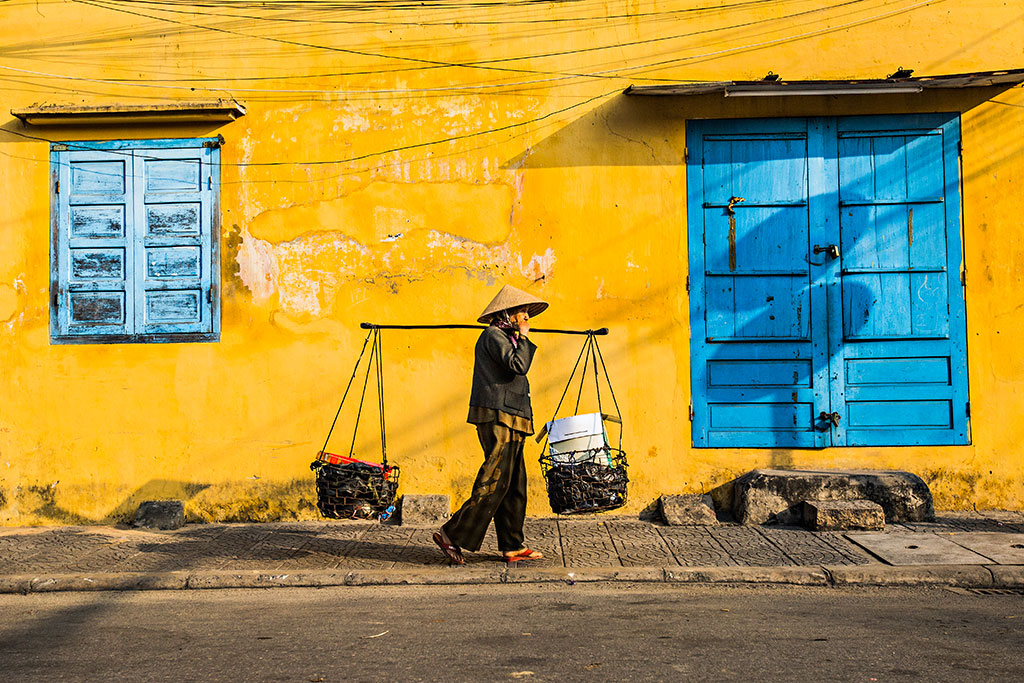 Blue Windows, Vietnam, 2014
Rehahn has created an archive of thousands of yellow-toned Fine Art photographs since he moved to Hoi An, Vietnam. Rehahn's "Yellow Period" was inspired by Hoi An's iconic yellow architecture and the golden light that fills the sky at dawn and dusk. His collection of yellow photographs honor the memories of Van Gogh, Pissaro, William Turner and other master painters.
What does the color yellow make you feel ?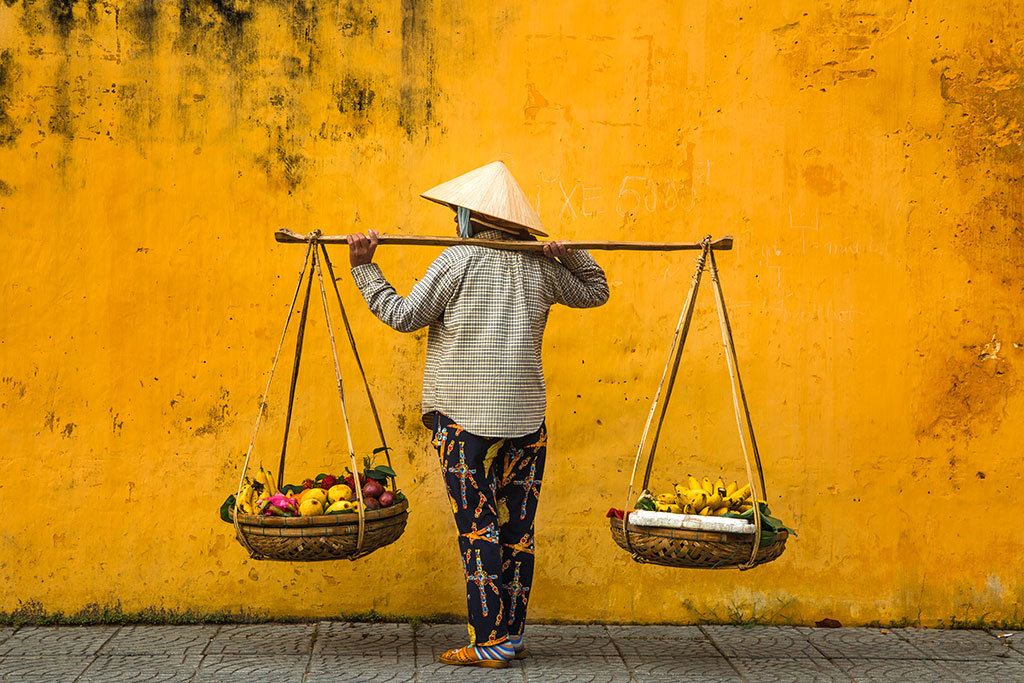 Balance, Vietnam, 2016
Yellow is the brightest color in the spectrum. It's energizing spirit is connected to joy. Like all mammals, man is always in search of sunlight and warmth. In many cultures throughout history, yellow has even been seen as sacred because of its relationship to "the sun god."
Tradition, Vietnam, 2015
The meaning of yellow varies depending on the country you're living in. In America, yellow is often considered to be the color of friendship. In Egypt, it is the color of mourning. In Africa, it stands for wealth, whereas in India it is the color of merchants. In Vietnam, yellow denotes royalty and prosperity, happiness and change. Dark yellows can create an antique look and give the sense of permanence and reliability.
The color Yellow in Fine Art
Golden Fields, Vietnam, 2020
"As a Fine Art photographer, I've found myself returning again and again to the golden yellows that can be found in the works of Post-Impressionist artists such as Vincent van Gogh. Perhaps, this is why Hoi An, Vietnam with its golden rice fields, yellow buildings, and immense blue skies immediately felt like home to me. It was like walking into a master painting from the 1800s." – Rehahn
Vincent van Gogh, Harvest in Provence, 1888
Turner, Venice, The Mouth of the Grand Canal, 1840
Van Gogh loved to use vibrant, almost unrealistic, colors in his paintings. He's well known for his blue, such as in The Starry Night", which had the power of drawing the viewer into its mysterious depth, Yet, the color that Van Gogh used most of all was yellow. From his pastoral fields and sunflowers, to "The Yellow House," he found incredible texture and variety in his use of the hue.
From Pissaro's Impressionist paintings to Picasso's Cubism, other Fine Artists leaned on yellow tones to create contrast with other colors. In the case of William Turner and Renoir, yellow was used to depict light and add a brilliant shine to certain details.
A VERY BRIEF HISTORY OF THE COLOR YELLOW
Before Van Gogh ever put yellow paint on his paint brush, the yellow had to be created. Yellow ochre is thought to be one of the first colors ever made. It was used by humans during the Prehistoric Period and can be seen in the form of pigment made from clay containing silica. The Lascaux cave in France still has an incredibly well preserved painting of a yellow horse that is estimated to be 17,300 years old. In case of  William Turner and Renoir, yellow was used to depict light and add brilliant shine to certain details.
Yellow is often made with limonite, an iron oxide, that can tint things a deep ochre color. Unlike certain pigments that can be volatile because of their components, yellow ochre can be safely created and used. Indian Yellow, another iconic shade, had a very strange production method. It was originally made from the urine of cows nourished only with mango leaves. A synthetic yellow, called Mars yellow, was created in the 1920s and is still used today.
Yellow inspiration for your interior design
Now that you know the significance behind the color yellow in history and Fine Art, you can find some inspiration for how to use it in your own home.
In interior design, like in Fine Art, one general rule for perfect balance is to choose a three-color palette. The main color will take up 60% of the space, 30% for the secondary color and 10% for the final accent. Yellow as a main color can be overwhelming in a room. However, when used as an accent, such as in a piece of artwork or throw pillows it enlivens the entire space.
Use the ideas below to find the yellow tones and complimentary colors that make you feel bright and sunny, no matter the weather.
Decorating with yellow to bring joy
Decorating with yellow, even if it is just a touch here or there, can instantly energize a room.
Yellow is an unusual hue in that it pairs just as well with neutrals as it does with other bright colors on the spectrum. Yellow and blue are a classic combination but yellow and white can also feel crisp, modern and youthful. Bright yellow pairs well with other happy colors such as bright pink and cobalt blue.
In the Chinese art of Feng Shui, it is believed that vibrant warm tones are ideal for a dining space. Warm colors, especially yellow, are known to stimulate appetites and conversation. If you're not ready to buy a set of marigold colored dining chairs, consider brightening up your space with yellow toned artwork.
Decorating with yellow as a neutral
Darker shades and muted tones of yellow can act as neutrals. Yellow hues with soft brown undertones, such as mustard or ochre, can appear sophisticated regal.
In a room decorated with cream or white, dark yellows can add a focal point while not overwhelming the eye. Artwork that depicts a golden field or pastoral scene can create texture and serenity in a room. A museum-quality photograph, such as "Resting Gold" or "Life Trace," can draw the viewer's eye into the calming golden tones while not competing with other colors in the room.
Another way to work yellow into your decor is to intentionally add it to brighten up your neutral space. Yellow and gray pair well together because the gray adds sophistication while yellow adds youthful flair.
Buy a Yellow Fine Art Photograph
Discover more of our photographs featuring the color Yellow.
Think about how each one makes you feel. Which one matches your personality? Which one will renew your home with its sunny charm or regal depth?